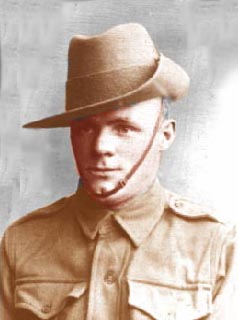 Number 249 Jack (Snowy) Rossitor Melville
(Born 31 0ctober 1891-Killed 25 April 1915)

7th Battalion
1st Division
Australian Imperial Forces
(1914-1915)
A sad story of a family during World War One. This family had two sons and a daughter go to war, one son went to Gallipoli, the second went to France as a doctor and the daughter to Solonica, Greece as a nurse.

The Melville family were lucky that one son, Hugh the doctor and daughter, Lenny (Ellen) returned but the second and youngest son, (Jack) died only 12 hours after hitting the beach on 25th April 1915 at Anzac Cove with the 7th Battalion of the AIF (Australian Imperial Forces). Jack Melville was in the group who advanced rather rapidly to Courtney's Post and was killed in the heavy fighting. His battalion was beaten back only to leave Jack lying mortally wounded in 'No Man's land'.

The fact that his body was behind enemy lines for some time made it very difficult to identify him and establish what really happened. Many reports were presented to the authorities by his fellow soldiers with several variations as to how Jack met his end. These confusing reports created a situation for the family that led them to believe that he was still alive as he was never confirmed dead, only "Missing In Action, believed killed".

His father, Jack Melville continued his inquiries for many years trying to find out the fate of his son. There was no real confirmation of how and where Jack Rossiter Melville met his death.
It is only now in 1998, 83 years later that the family, down two generations, at last have any idea what happened to him. Copies of letters from his father and their answers from the army officials are now in the family's possession and the true and sad story has unfolded.
His father John Melville played a big part in the formation of the AFL football team, Carlton and the formation of the VFL.